The Software Tool For International Traders.
ExportDoc Worldwide export documentation software is packed with features making your international trade documentation quick and easy. Since 1992, ExportDoc has been the choice of thousands of companies, providing the tools to create and distribute high quality shipping, customs, and export documents with just a few mouse clicks. Take a look...
Important note concerning NAFTA.
In the event the North American Free Trade Agreement (NAFTA) is terminated, any required changes will be made accordingly at no charge for users with maintenance subscriptions in good standing. Please note however, that ExportDoc Worldwide contains most, if not all, the non-NAFTA documents required for shipments to all the current signatory countries.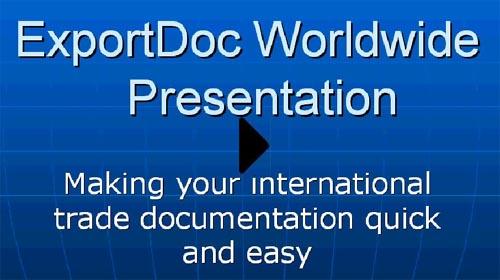 Click on the image to view a short, 7 minute video on how to use ExportDoc and some of its features, and see why we say "...from zip to shipped in minutes."
Client Testimonials
"Using your software program has saved me a great deal of time...
This is a fantastic program and I wished we purchased it a long time ago!"
Laura H., R. M. Young Company.

"After having to manually type the exports,
this program was a Godsend. It's efficiency has helped with my workload and the user friendliness has made it easy to teach others to use the program in my absence."
Theresa, Comtest Communications Products Ltd.